Marc Rasmussen - Broker/Owner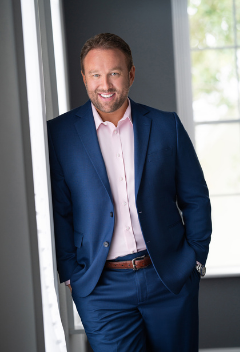 Marc Rasmussen has been a Sarasota resident since 1994. He graduated from University of Florida that same year with a degree in Finance, an area in which he worked for the next 6 years. After extensive work in the finance arena, including mortgage lending, which introduced him to real estate in 1998, Marc began selling real estate in 2000.

Marc saw an opportunity in internet marketing, and pioneered his own website with a client-centered focus that allows buyers to easily search through properties to fit their specific needs. His website quickly became one of the top resources for prospective Sarasota buyers, usually topping the Google ratings.

A top producing agent at several high-profile Sarasota real estate firms, such as RE/MAX Alliance, SKY Sotheby's, and Michael Saunders, Marc decided to propel his internet success into his own business, opening DWELL Real Estate in 2011. With his team of enthusiastic and knowledgeable realtors, DWELL's mission is to raise the standards of Sarasota real estate. High levels of professionalism, strong and thorough communication with the clientele, and successfully getting our clients to the closing table are the main missions of the firm.

Marc is also a member of the Institute of Luxury Home Marketing, has the CLHMS designation and is in the Million Dollar Guild.

Recognized as the mark of accomplishment in luxury markets around the world, the Certified Luxury Home Marketing Specialist (CLHMS) designation assures affluent buyers and sellers that the agents who have earned it have the knowledge, experience, competence, and confidence they require.

Members of The Institute who hold the CLHMS designation have documented performance in the TOP 10% of their markets, and have successfully demonstrated their expertise in the luxury home and estate market.

Certified Luxury Home Marketing Specialists (CLHMS) whose documented performance includes at least two single family property closings at $1,000,000 and above will be recognized as members of the prestigious Million Dollar Guild.
Testimonials
"Mark put me on to a great deal and I was very pleased with his services. I would use Marc again in the future. I review his weekly web publication to see what new listings are in my area. I find it to be informative as I am looking for a waterfront home on Longboat Key." - D Groff
"My mother asked me to help her find a winter getaway in Sarasota. I found Marc on the internet and he helped us purchase a great condo downtown. He asked all of the important questions which saved us a bunch of time by not looking at condos that didn't work for us. We wanted something brand new and Marc was very knowledgeable about all of the new condos. He was very professional and responsive. I recommend him to anyone looking for property in Sarasota." - A Gibb
"Marc was just great to work with. He stuck by us, even when it took a few years to find the best house for us. I absolutely love my house. It's the perfect house for us. He's always very responsive to calls and texts, even after we bought our home. Marc is also very easy to be with. You'll enjoy working with him." - Lori B
"We interviewed 4 top realtors in Sarasota and Marc Rasmussen was our final choice. His handling of our search and purchase of "Our Slice of Paradise" proved that we chose well. Marc is a consummate professional. He listened to our wants/needs/price cap/and other criteria. He searched extensively and only brought us properties that were worth our time and effort. He never tried to steer us toward anything out of our range or out of our comfort zone. The condo we bought was not on "our list" but Marc advised us to see it and we are so glad we did. Marc has a mastery of the SRQ market and his wonderful staff provided service beyond the norm. We wholeheartedly recommend Marc Rasmussen; a realtor you'll keep." - Ellie L