Sharon Straw - Sarasota Realtor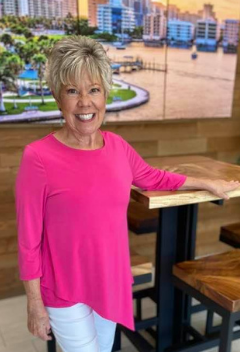 A consistent multi-million dollar producer since she became a Realtor in 1984, Sharon receives most of her clients by referral. Her real estate savvy and market knowledge combined with exceptional intuitive skills help her assist buyers in finding their ideal home at the right price and sellers in selling their property quickly at top market value. A dynamic personality who exudes enthusiasm and confidence, Sharon embodies the highest standards of integrity and professionalism. Her mission is to "provide the highest level of service possible to always put clients first." Sharon is a motivational speaker, trainer and personal coach, and she most notably gave the keynote address for one of the company's award presentations, an honor usually bestowed on top out-of-town speakers. Sharon's commitment to her clients is equaled by her service to the community, where she demonstrates her love of people as a Big Sister with Big Brothers Big Sisters for over 10 years, volunteers at Cyesis weekly and was a fundraiser for United Cerebral Palsy and Child Protection Agency. From 1986 to 1992, she chaired the National Holiday Project, a volunteer organization active in nursing homes. The Rotary Club of Sarasota recognized her service to the community with the Non-Rotarian Volunteer Vocational Service Award in 1998. A Sarasota resident since 1969, Sharon is a member of the professional standards committee of the Sarasota Association of Realtors. She shares her insights on empowered living as leader of a women's seminar called "Celebration of Life," and is writing a book entitled, "Dance With Joy: A Journey of Freedom."
Testimonials
Hi Marc,We wanted to take this opportunity to let you know how pleased we were with Sharon Straw as she assisted us in the purchase of our home in Siesta Key.Sharon spent time on the phone and in person, helping us understand the market in Sarasota while we were in exploratory mode. We mentioned numerous times that we were not sure if we would even relocate to Sarasota and she treated us with the attention and dedication of real customers.During our several visits to the area, she always made herself available and helped us understand what the different neighborhoods had to offer. It is clear to us the Sharon holds the most ethical standards while doing her job. Also she was a great adviser and sounding board in our decisions.She was friendly, honest, caring and patient. But most of us, she was knowledgeable about the Sarasota market and quickly understood our requirements. Hence making her effective and efficient in helping us close on our home.We wanted to make sure you knew how much we appreciative having Sharon by our side while helping us find our new home.Sincerely,T & S



I need to let you know that had it not been for Sharon, I probably would not have bought a vacation home in Sarasota recently. After going out on a disappointing and eye opening venture in North Port, I decided that I would just forget about even looking. But I had been following your new company online since you broke out on your own and decided to go ahead and an email an inquiry about a house,,as Sarasota is really where I wanted to be anyway. Sharon happened to call me and was in the house I was interested in and it had just sold. I related to her what I was looking for and she found the ideal house, it was perfect, and only took one trip/one house. Unfortunately I was outbid in the foreclosure process, but something better was to come my way. Sharon informed me on the last day of my winter vacation that she had remembered a community that allowed dogs, Stonehaven. I met her there, went through a few models and one particular one had fallen through fro m a prior client. It was just what I needed to purchase and since it was a condo it would be low maniantenance, perfect for a vacation home. I have dealt with various realtors, but Sharon has a sixth sense and and an ability to hone in and somehow know exactly know what you are looking for. I would highly recommend her to anyone wanting to purchase a property in the Sarastoa area. She is extremely professional, dedicated, experienced and will not waste anytime finding that perfect home you are seeking. Your company is very lucky to have her. - Tammy Kessel



Hi Marc, I want to commend to you my Realtor, Sharon Straw. I met Sharon two years ago when I first visited Sarasota. At that time, I was beginning to think about acquiring a winter residence in Sarasota and wanted to know what one got for a range of prices. Sharon kindly showed me moderately priced condos and one fabulous, expensive one. My husband was not ready to buy that year so I thanked her and she said I'd be in touch again when I could persuade hime that this was a good idea. Sharon then sent me almost weekly updates on what was for sale within my designated price range, and I sometimes wrote back queries about a property. The next season I didn't want to waste her time showing me around if my husband still wasn't on board but I knew we were getting closer so I went to open houses (always telling the agent tha tI was working with Sharon) and asked Sharon to show me units in one building that I particularly liked. She was so kind and patient to do so when she had no guarantee that I would ever buy anything. And then she continued to send me electronic updates. And then this fall I finally got my husband to agree, so I flew to Sarasota and Sharon cleared her calendar to show me condos all weekend long. She had everything nicely organized so that we could see the most desirable and likely candidates in a leisurely manner. Once I winnowed the list, she showed me two, a second time and helped me make my decision. She did all the paperwork to put in the bid quickly and effciently, advising me on the best approach. Her advice was spot on and we got the condo for just about what she estimated it was worth. Honestly, she made it painless.



I have enjoyed every moment I've spent with Sharon. She seems to understnad her customers taste and needs and unlike many agents I've met, she doesn't try to sell her taste or even the most expensive place in town. While this is important, more importantly, Sharon is knowledgeable about rules, processes, the Sarasota market and everything one needs to know to make a sale seamless. I can't begin to express my gratitude, except by recommending her to friends of mine who are also contemplating a move to Sarasota.


Sharon is an A-1 agent, and extremely generous person to boot. Congratulations to you for having her on staff!! - Name Withheld