Finding a Sarasota Beach Home
Posted by Marc Rasmussen on Thursday, January 21, 2021 at 10:22 AM
By Marc Rasmussen / January 21, 2021
Comment
As Realtors, we often hear, "I am looking for a place on the beach." We used to hear this more frequently years ago when real estate information wasn't as prevalent as it is now. It's easy to jump on the internet and get a sense of what properties on the beach cost. Since living on the water is in such high demand waterfront homes and condos are usually the most expensive real estate.
Sarasota Beach Home Prices - 2020 Sales
I will show you prices of single family homes that are on a walkable beach like the one below (Lido Key beach).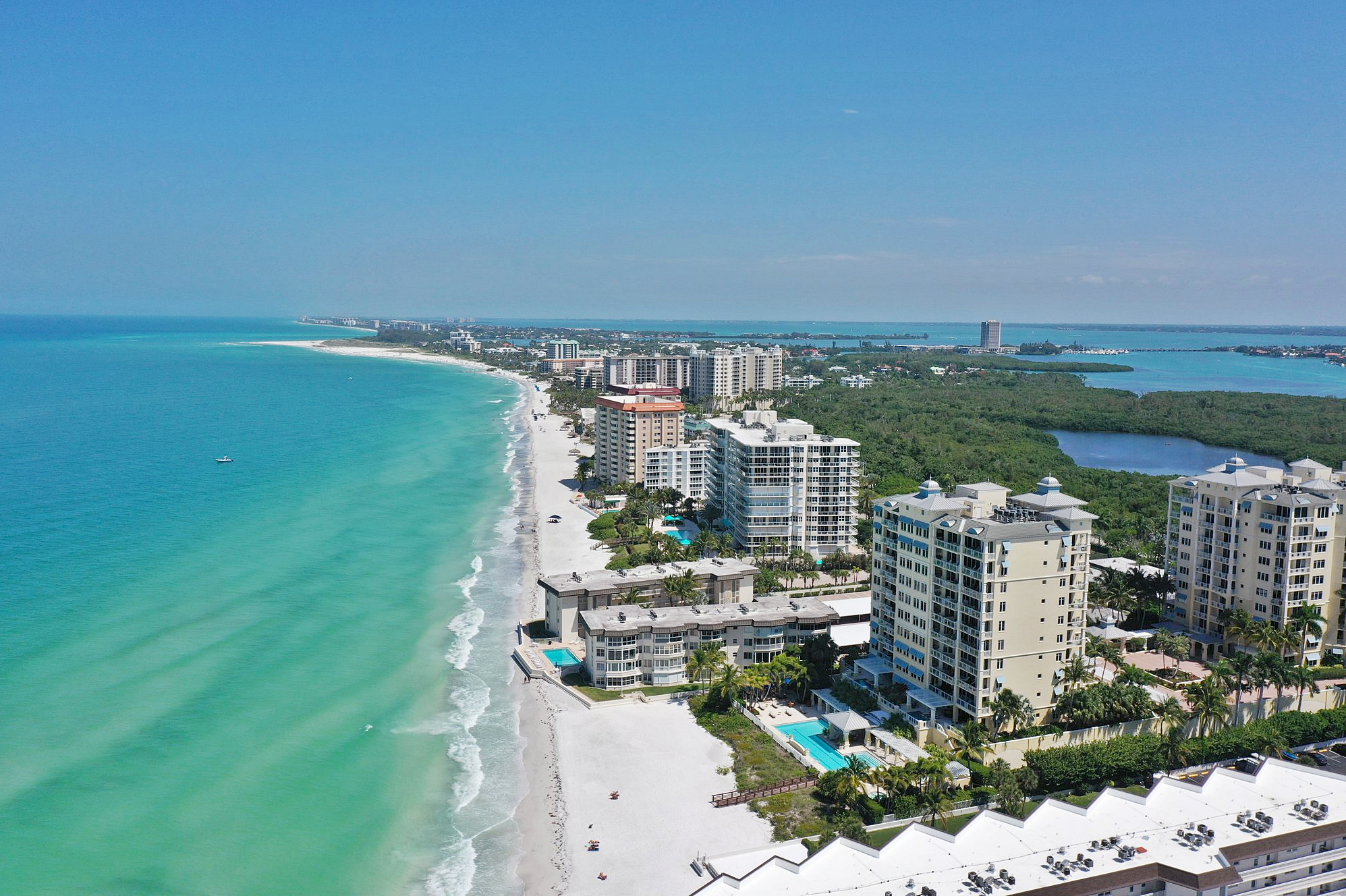 Not a 50 to 100 foot private beach like the one pictured below.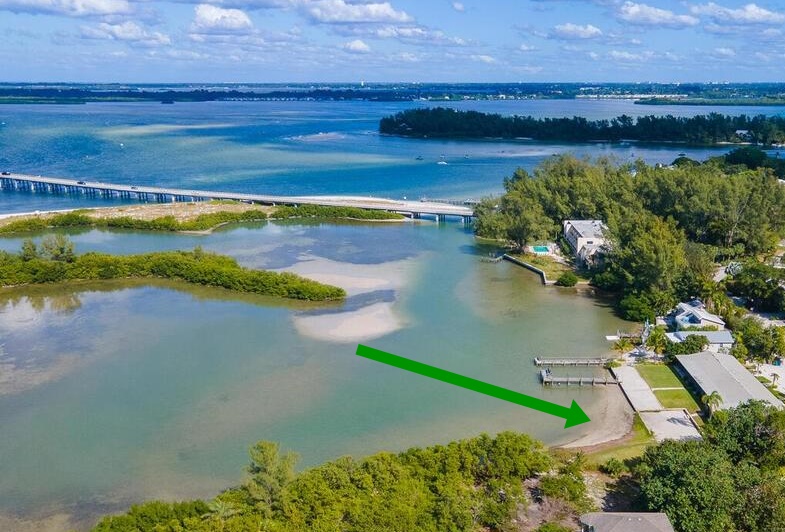 The homes below are not across the street from the beach but directly on it.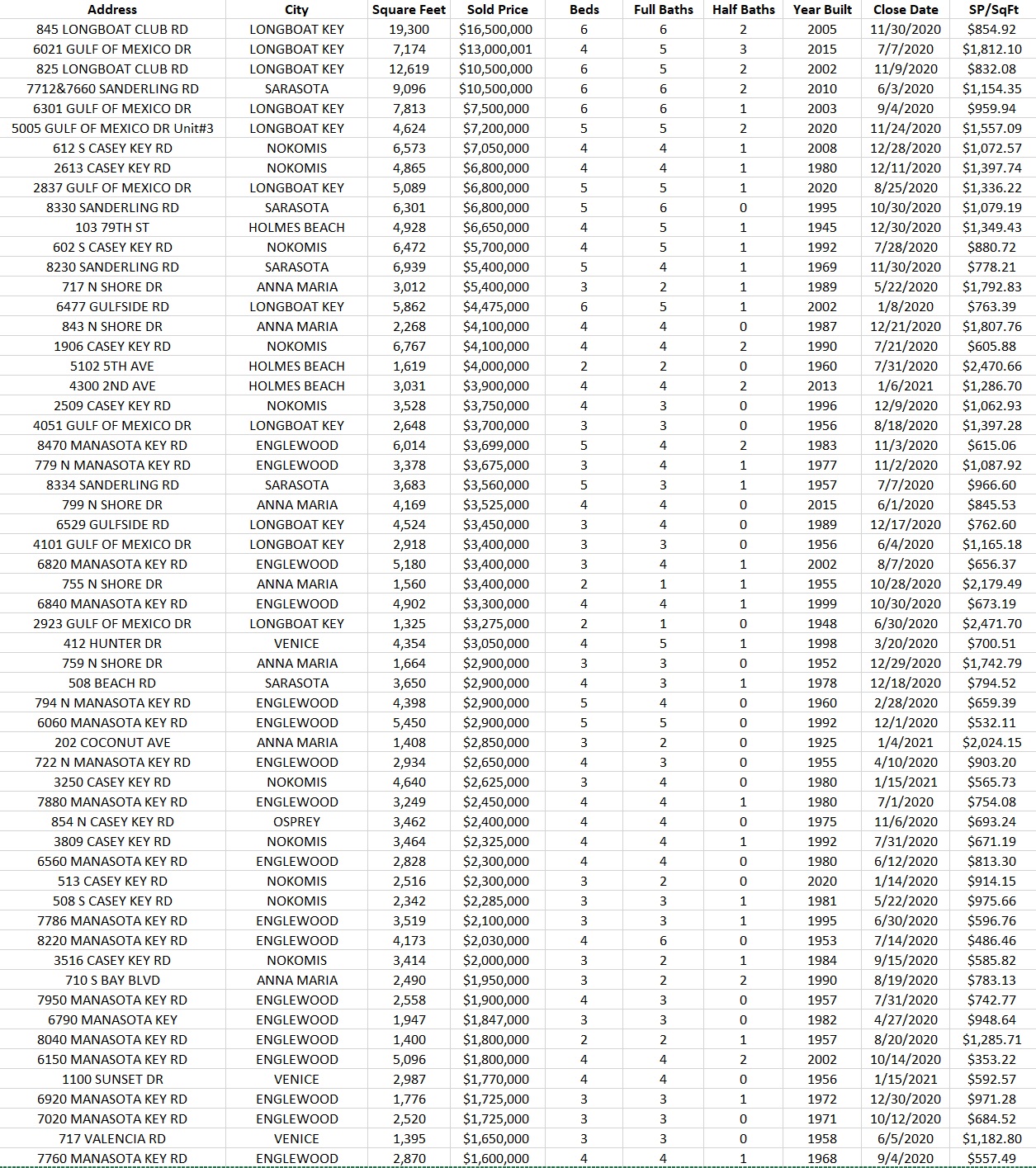 The above sales are beach front single family homes sold in Sarasota and Manatee counties in 2020. They range in price from $1,600,000 to $16,500,000. The average price was $4,124,845 and median price was $3,350,000.
| | | | | |
| --- | --- | --- | --- | --- |
| Island | | Number of Sales | | Average Sales Price |
| Manasota Key | | 18 | | $2,433,389 |
| Venice Island | | 3 | | $2,156,666 |
| Casey Key | | 11 | | $3,757,727 |
| Siesta Key | | 5 | | $5,832,000 |
| Lido Key | | 0 | | $0 |
| Longboat Key | | 11 | | $7,254,546 |
| Anna Maria Island | | 7 | | $3,446,429 |
| Holmes Beach | | 3 | | $4,850,000 |
As you can see from the table above, most of the beach home sales in Sarasota and Manatee counties were on Manasota Key. Casey Key, Longboat Key, Anna Maria Island/Holmes Beach had roughly the same number of sales on the beach. The most expensive average beach home price went to Longboat Key because there are several $10m+ sales in 2020. Lido Key is a smaller island with not many homes on the beach.
Where to Look For a Beach Home in Sarasota
If you are looking to stay in the Sarasota area then you want to focus on Lido Key, Siesta Key, Casey Key and Longboat Key. The other islands can be a little far depending on traffic.
Casey Key Beach Homes
Casey Key is the island located just south of Siesta Key. You won't find any large condo towers here as most of the island is made up of single family homes. Most of the area's beach homes are located on Casey Key. The island is narrow so it offers not only the luxuries of the beach in the front of the house but also the benefits of the bay in the back. Here you could live both the boating and beach lifestyle very easily.
The Casey Key beach homes on the north end of the island are generally more expensive than homes on the south end primarily because of convenience. Residents of the north end have easier access and a shorter drive to all of the amenities of Sarasota. As a result the values are higher.
Siesta Key Beach Homes
Moving north up the coast from Casey the next island is Siesta Key. This is home to the world famous Siesta Key beach. This beach consistently ranks as one of the prettiest beaches in the world. Here you will find an abundance of condo options. As far as single family homes go you have a few options but not nearly as many as Casey Key.
Blind Pass
On the very south end of the island you will find Bind Pass. There are several Siesta Key beach homes in this community. To get to Blind Pass you have to go through the Turtle Beach public parking lot as well as the Fisherman Cove condo parking lot. After you do this you will find a Blind Pass road which will take you to a small enclave of homes on the beach or across the street from it.
Horizon View Drive
Just north of Blind Pass is Turtle Beach and Horizon View Drive. This is a very short street where the homes on the west side of street are on Turtle Beach.
Sanderling Club
The Sanderling Club is just north of this location and is home to some of the most amazing beachfront homes. The community has a manned guard gate and offers tennis courts, boat docks and beach cabanas for the residents. The homes on the beach sit on spacious lots offering ample space from the neighbors. You definitely can have that beach front estate feel.
Point of Rocks
Moving north on the island you will find Point of Rocks. This is located just south of Crescent beach where you will find large limestone rocks on the beach. It is great for snorkeling but not for long walks.
Siesta Key and Crescent Beach
Just north of Point of Rocks on Siesta Key is Crescent Beach and Siesta Key beach. This is where you will find mostly Siesta Key condos. The land in this area is super desirable and thus super expensive. This beach is where you will find the coveted white sand made up of quartz. It truly is one of the prettiest beaches that you will ever see. You won't find a bunch of single family homes here. At any given time there may be just a couple for sale.
Sandy Hook
Sandy Hook is a community located just north of the Siesta Key village. There are a few homes here that offer beach front living. The entire community has deeded access to a gorgeous beach. Most of the homes have rip rap (large rocks) protecting the homes from the Gulf of Mexico.
As you move beyond Big Pass you will find a number of waterfront homes on Higel Avenue. These homes have a private beach that does not touch the main part of Siesta Key beach. So you can enjoy your own little beach you won't however have access to miles of miles of walking beach.
Solymar
The next spot is Shell Beach which is a very small public beach. Solymar is a small enclave of newer homes that have easy access to Shell Beach. A few of the homes sit right on the beach and have wonderful views of Big Pass and south Lido Key.
Bayou Louise
As you move further in the Sarasota bay and away from the Gulf of Mexico you have the Bayou Louise and Gulfmead Estates communities. Both of these neighborhoods have waterfront homes that may offer small, private beaches to enjoy. Again, these don't offer access to long walking beaches but if you want to sit in the sand and enjoy the water you can do that very easily.
Lido Key Beach Homes
The photo is of Lido Key and St. Armands Circle. You will find very few Lido Key beach homes as the island is very small. Most of the beach is made up of public beach and condominiums. Just outside of St. Armands Circle there is North Polk Drive. There are three side streets - Bryant Drive, Whittier Drive and Emerson Drive. At the end of the these streets are some beach homes. These residents are fortunate to have such easy access to Lido Key beach as well as all of the fun on St. Armands Circle.
Lido Shores
On the north end of Lido Key you will find the exclusive neighborhood of Lido Shores. This is home to some of the most amazing beachfront homes in Sarasota, Florida. All of Lido Shores has a deeded beach access. This is a fabulous place to call home if you desire beachfront or waterfront living and easy access to all of the luxuries of downtown Sarasota and St. Armands Circle. As a resident of Lido Shores you can walk to gorgeous white sands of Lido Key beach as well as the delicious restaurants around the world famous St. Armands Circle.
Longboat Key Beach Homes
Longboat Key is a very long island of roughly 11 miles and just north of Lido Key. The south end of the island is in Sarasota county while the north end is in Manatee county. Most of the island is made up of condominiums on the beach however there are a handful of locations that offer beach living in a single family home.
Lighthouse Point
As you cross over the New Pass bridge entering Longboat Key you will see a small enclave of homes on the lagoon. These homes have a small private beach to enjoy as well as boat docks. The homes of Lighthouse Point rarely come on the market but when they do they get plenty of attention.
Moving a little farther north but still behind the gates of the Longboat Key Club and along Longboat Key Club road you will find 8 luxurious mansion on the beach. You cannot miss them if you are driving along Gulf of Mexico Drive. They are luxurious mansions that most people admire and just say, "Wow".
Condominiums take up most of the beach as you move north until you hit the shopping destination of the Avenue of the Flowers. Just beyond this area you will find some beach homes. Some of them are small, cozy beach cottages while others are grandiose recently built homes with the latest hurricane building codes.
As you drive north on Gulf of Mexico drive most of the beach is made up of either condominiums, hotels or public beach access. Once you hit roughly the 5000 block you will start to see a single family home intermixed with the condominiums. At the 6000 block you start to see a bunch of Longboat Key beach homes. They are usually found on spacious lots with plenty of beach frontage. You will see a good mix of recently built newer homes and some "Old Florida" beach cottages.
Gulfside Road runs parallel to Gulf of Mexico Drive and is home to several more Longboat Key beach homes. If you are looking to purchase a beach home make sure you look here as it offers some of the more affordable options. Getting back on to Gulf of Mexico drive there are a few more homes on the beach before you reach the end of Longboat Key. As you can see there are only a handful of places to find some single family homes on the beach.
Key Take-Aways
Single family homes on the beach is the most expensive segment of the residential real estate market.
Expect to pay a minimum of $2.5m, if not $3m, if you want a beach home on Siesta Key, Lido Key, Casey Key or Longboat Key.
Siesta Key, Lido Key, Longboat Key beach home prices have the highest prices than other islands in Sarasota & Manatee counties.
Casey Key has the best selection of homes on the beach if you want to be within close proximity to Sarasota.
Manasota Key has a good selection of homes on the beach and are less expensive than the islands off Sarasota.
A walkable beach is more expensive than a small, unwalkable beach.
If you don't need to live on the "sand" and don't want to pay the minimum price then you should explore other waterfront options.
Contact me if you are looking to buy or sell a waterfront home in Sarasota. ;-)