Historic Belle Haven in Downtown Sarasota Listed For Sale
Posted by Marc Rasmussen on Wednesday, April 7, 2021 at 1:48 PM
By Marc Rasmussen / April 7, 2021
Comment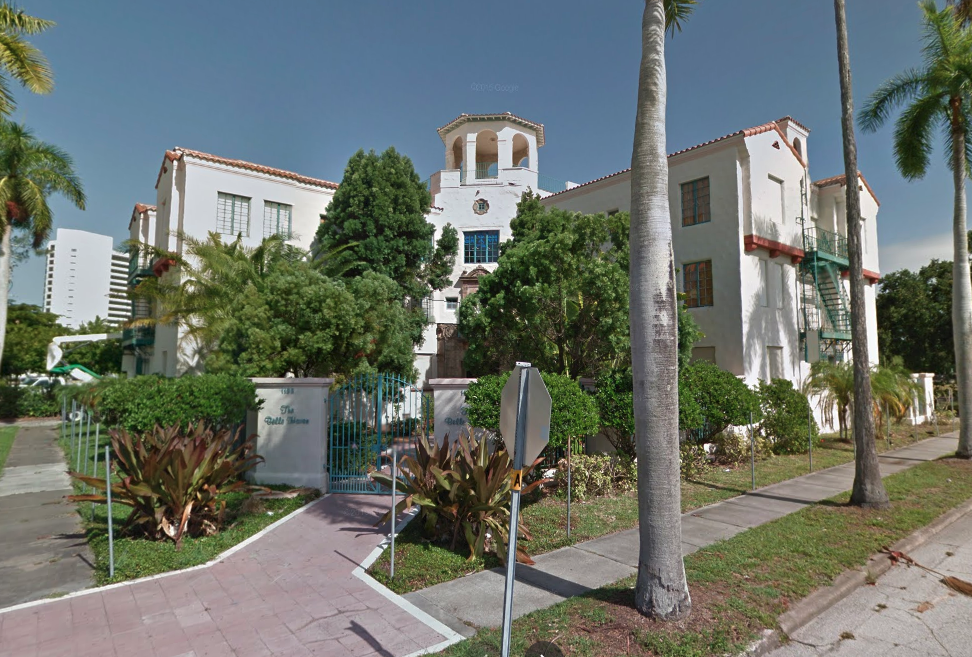 Perched between the 10-floor Hyatt Regency and the gleaming new 18-story Ritz-Carlton condo tower on 15 bayfront acres being developed under the umbrella of the Quay Sarasota, the Mediterranean Revival apartment building opened in 1926 and just hit the market for $12.5 million.
The three-story Belle Haven has kept its good looks. Designed by architect Dwight James Baum, Belle Haven was originally known as Broadway Apartments and was one of the buildings in the Broadway Development that also included the Baum-designed John Ringling Towers and the headquarters of the Sarasota Times newspaper–now the upscale restaurant and bar Sage. After Belle Haven was completed, developer Owen Burns bought the building for $250,000 and named it El Vernona Apartments. When real estate crashed in the late '20s, Sarasota resident Elmer Whittle took it over and renamed it Belle Haven.
"It is the last of the historic buildings that were once on that site," says Tony Souza of the Sarasota Alliance for Historic Preservation. "By 1935, no further development had occurred in the area and all the other historic buildings on the Quay site were demolished."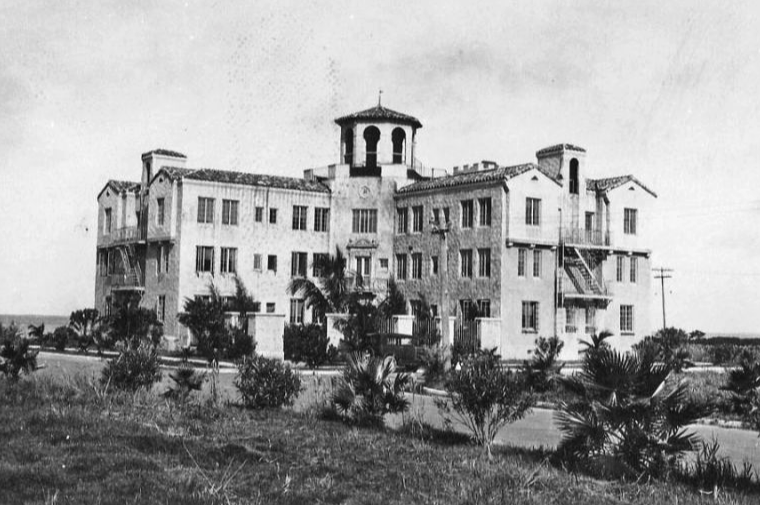 When it opened, Belle Haven had 20 furnished apartments. Residents had maid and janitorial services, a roof garden, kitchenettes with electric ranges, linens, silverware and dumbwaiters in each apartment. Boasting "modern day living," its restrictions forbid cattle, horses and poultry. "Furnished by Gimbels in New York, it was considered a very swanky building for people coming in the wintertime, and it attracted a lot of women because it was a safe place to be," Souza says.
By the 1970s, it was an affordable apartment building and in 1984, Belle Haven was listed on the National Register of Historic Places and was converted into 1,700- to 2,000-square-foot offices.
A previous owner, Irish American Management Services, headed by Patrick Kelly, in 2004 announced plans for a $1 billion commercial and residential development on the site that included Belle Haven and Sarasota Quay, a massive pink multiuse development of upscale restaurants, retail, offices and a popular nightclub that was built in the 1980s. Kelly demolished Sarasota Quay in 2006 and said he would move and preserve Belle Haven. The real estate collapse during the Great Recession halted the project and led to foreclosure in 2013. Current owner GreenPointe Communities bought the entire Quay property the next year for $27 million.
During the transition, Belle Haven stood forlorn, vacant and boarded up, an odd sight for what may be one of the most coveted pieces of real estate in the county. It even made its way onto a national list of haunted places, where one site contributor described capturing "many pictures of orbs" and a "body apparition."
No matter how it will eventually be used, Belle Haven is still beautiful. GreenPointe Communities rehabilitated it, and its stucco and cast stone exterior, barrel tile roof and iconic cupola stand strong. The 20,605-square-foot interior has been stripped down to what's known in the industry as a "gray shell," allowing a new owner the flexibility to build it out as they choose. The doors, interior light well in the center of the building, pecky cypress ceiling beams on the first floor and the internal stairwells have been preserved.
And it's still located along a coveted stretch of waterfront in downtown Sarasota, with 475 feet of frontage along the lagoon next to Sarasota Bay, and close proximity to theaters, shopping, parks and St. Armands Circle. Zoned "downtown bayfront," Belle Haven could be permitted for anything from a restaurant to retail to a private residence.
Original Article from Sarasota Magazine: The Historic Belle Haven Building Hits the Market